Post Classifieds
Go Local at Artistic Roots
By Hannah Huckins; For the Clock
On March 9, 2017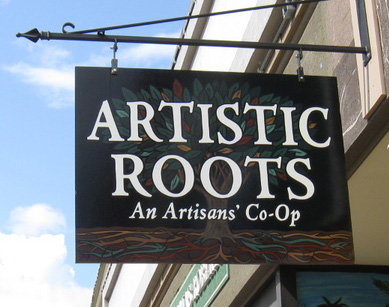 Tired of always finding cheap identical objects that have been shipped hundreds of miles from factories and assembly lines?
At Artistic Roots every object that is made, both practical and ornamen- tal, is a piece of art, simply because of the amount of effort and creativity its artisan has put into it.
Located on Main Street in down- town Plymouth, Artistic Roots is a non-profit cooperative consisting of 32 local artisans. Artistic Roots pro- vides a venue for members to sell their goods. It is also a place for artists to reach out to the community through workshops and events.
Artistic Roots has been around for 14 years. It has everything from pottery, jewelry and photography, to furniture, clothing and woodcrafts. Artistic Roots taught its first class in Campton, before the co-op moved to a basement in Plymouth. It moved to its current location seven years ago, and it is still making improvements made possible through grants and sponsorships.
Melissa Greenawalt , a local photographer, has been a member of the co-op for over six years.
"It's really fun being part of a co- op, because we all come together as a team. We all have our different strengths," Greenawalt said. "We all bring something unique to the gallery, and whenever we need help or guid- ance, there is always somebody there."
Greenawalt said her favorite part of being a member is seeing what every- one has to offer, and what new things everyone has brought in. "We all kind of celebrate our successes. There are so many different people," she said.
Suzan Gannett, president of the co- op, works with glass to create her own beads and jewelry. Gannett also works with watercolor and zen doodles.
"I love sharing my skills with oth- ers," Gannett said. "I actively teach each month. I am so proud to be associated with these artists and this organization."
The co-op offers classes that are open to the public. Classes are taught by juried members and visiting art- ists at the gallery. Upcoming classes include eight-pointed star ornaments on March 18, glass fusing: sun catcher and night lights on March 20, and a free open knitting table every Sunday from 2-4 p.m.
Community outreach is part of the co-op's mission statement. A lot of work goes into getting the word out about classes and the artists.
Try stopping in at a local business like Artistic Roots, where artisans take pride in their work and create products that embody the local cul- ture. Each item created is unique, just like the people who created them and the people who enjoy them.
Visit www.artisticroots.com for more information about the co-op and upcoming art classes.
COURTESY PHOTO
Get Top Stories Delivered Weekly
More theclockonline News Articles
Recent theclockonline News Articles
Discuss This Article
MOST POPULAR THECLOCKONLINE
GET TOP STORIES DELIVERED WEEKLY
RECENT THECLOCKONLINE CLASSIFIEDS
HOUSING

JOBS

FOR SALE

TUTORS
Plymouth State produces top
LASIK New York
doctors that specialize in lasik and laser refractive eye surgery.
TODAY'S PRINT EDITION