Post Classifieds
Join the World of Faeries & Magical Creatures
By NAPS (North American Precis Syndicate)
on June 15, 2023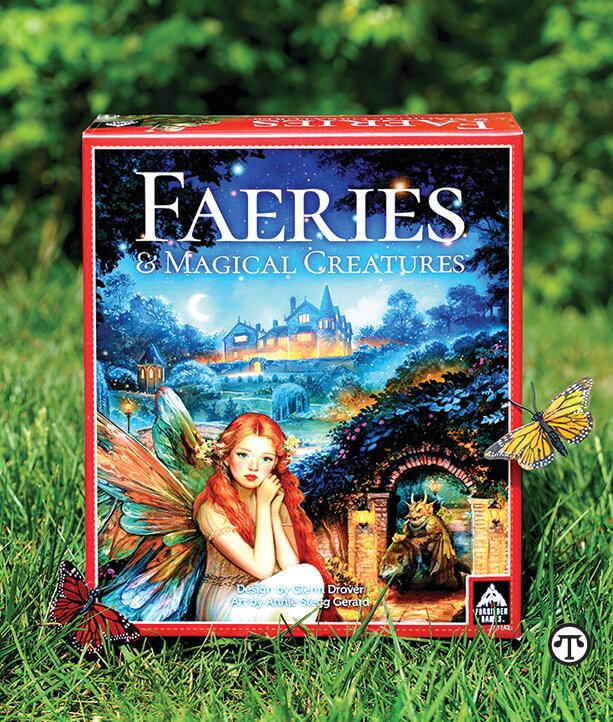 (NAPSI)—Enjoy the beautiful winged faeries, trolls, goblins and an entire new world in the just released game from Forbidden Games, titled Faeries & Magical Creatures™. Unlike many current strategy games, this game has been designed for the entire family. Each player uses their creativity to experience this enchanting world. The goal of the game is to create a personal faerie garden and amass points by strategically collecting and playing various actions collected from the five faeries realms; Nature, Earth, Beast, Fae and Troll.
Be first to join the Faerie Realm through Kickstarter on June 13th.
Players won't have to wait for the game to come to local stores as the beautiful, spellbinding and challengingly fun new game is now available for order on Kick­starter. Kickstarter is a crowd-sourc­ing platform that has become a pri­mary route for launching new board games in the U.S,. helping to produce hundreds of new games each year. Forbidden Games has successfully released its Lizard Wizard, Raccoon Tycoon and the award-winning Mosaic games through the crowdfunding plat­form. For the Faeries game, early backers will receive a choice of custom gifts only available on Kickstarter, including special limited-edition postcards and an exclusive Kickstarter Premium game with premium playing pieces.
This Game for Men, Women and Families is Easy to Play
Faeries & Magical Creatures has been designed to be both intergenerational and appealing to both men and women with an average playing time of about 60 minutes. On each turn players make decisions on whether to explore the magical realms or build their secret garden.
This game was brought to life by top artists and designers. Bob Moog, President of the Company stated, "The creative team behind Faeries has built a magnificent game that brings a whole new group of people into the strategy game world. We are extremely excited to have people join the community." Award-winning artist Annie Stegg Gerard produced lush oil paintings for the creatures and landscapes of Faeries & Magical Creatures. In addition to stunning classic faeries, the game features a centaur, unicorn, minotaur, troll and other characters that add appeal to fans of mythology, folklore and elegant art. The theme and strategy of the game draws Lord of the Rings enthusiasts, as well as players of gateway games such as Wingspan, Splendor, Azul, and Villainous.
The innovative game-play was developed by the inventor of Raccoon Tycoon, Mosaic, Railroad Rivals, and Age of Empires. The designers at Forbidden Games feel that board games should be both accessible and deep; that a fast, fun gateway game can be as elegantly designed as a multi-hour miniatures-fest; that truly great games can appeal to casual and hardcore players alike. A game that players will play again and again.
Learn more about this and the other award-winning games available from Forbidden Games, at: https://www.kickstarter.com/projects/954412004/faeries-and-magical-creatures and interact with the company on Facebook, Instagram, TikTok, Twitter and YouTube.
On the Net:North American Precis Syndicate, Inc.(NAPSI)
Get Top Stories Delivered Weekly
Recent theclockonline News Articles
Discuss This Article
MOST POPULAR THECLOCKONLINE
GET TOP STORIES DELIVERED WEEKLY
RECENT THECLOCKONLINE CLASSIFIEDS
HOUSING

JOBS

FOR SALE

TUTORS
Plymouth State produces top
LASIK New York
doctors that specialize in lasik and laser refractive eye surgery.
TODAY'S PRINT EDITION