Post Classifieds
Make the Most of Summer with Tips for a Healthy Season
By NAPS (North American Precis Syndicate)
on June 20, 2023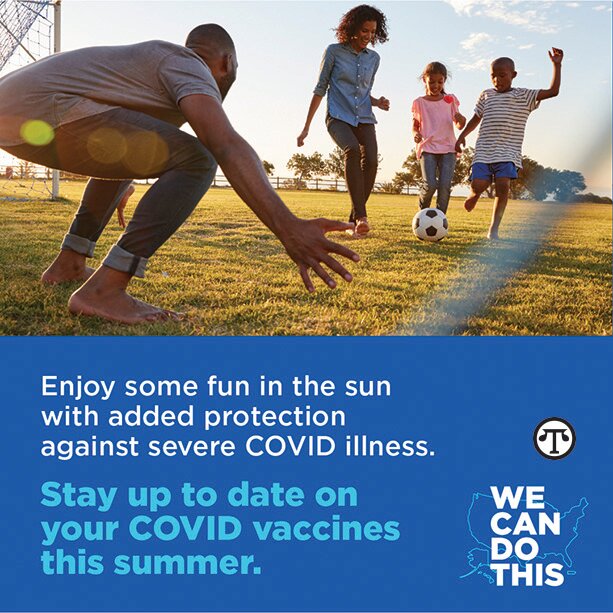 By the We Can Do This COVID-19
Public Education Campaign
(NAPSI)—The summer months are here, signaling that it's time to soak up the warm weather, enjoy time outside, and make the most of the longer days. The hotter months can also bring additional risk for outdoor activities, so follow these safety tips to prepare for a fun and healthy summer.
Use sun protection. Always take protective steps when enjoying time in the sun. Make use of the shade on a sunny day to keep cool and reduce the risk of sunburn. A wide-brimmed hat can provide additional protection from damaging UV rays. Best of all is broad-spectrum sunscreen, which should be applied 20 minutes before going outdoors. Choose sunscreen with at least SPF 15, and reapply every 2 hours and after swimming, sweating, or toweling off.
Prepare for bugs. When planning a day outside, be sure to pack insect repellent. Warmer weather means more insects, which can be more than noisy nuisances. Insects like mosquitoes and ticks can also carry disease. If the day calls for spending time in tall grass or heavily wooded areas, wear long-sleeved shirts and long pants to prevent bites. Remember to check your clothing, body, and pets for ticks upon returning indoors.
Stay active. Staying active is also important to good health, and summer is a great time to jumpstart an active lifestyle. Try to get at least 150 minutes of physical activity each week, whether that's swimming, playing catch, or just going for a walk around the neighborhood. Many people break up the 150 minutes a week into 30 minutes a day, 5 days a week. But do whatever works for your schedule and lifestyle. Physical activity doesn't just help you stay in shape: moving more can also improve stress and anxiety and lead to better sleep.
Drink enough water. Staying on top of fluid intake is key to staying healthy and hydrated in the heat, and it can be easy to become dehydrated without noticing. The Centers for Disease Control and Prevention recommends drinking at least 64 ounces of water a day. Sports drinks can help replenish vital electrolytes after time in the hot sun but should be consumed in moderation due to their high sugar content.
Update your COVID protection. Winter may be known as the cold and flu season, but COVID remains a threat year-round. If you are already vaccinated but don't yet have an updated vaccine, consider getting one—especially if you are planning to travel, attend crowded events, or spend time with older adults. Updated COVID vaccines offer protection against two strains of the COVID virus. And if you're 65 or older, or you are immunocompromised, you can get a second dose of an updated vaccine because you're at high risk for COVID complications.
"With the official public health emergency ending, people may be tempted to dismiss COVID as something they don't need to worry about when they make plans for the summer," said Jeffrey Reynoso, MPH, DrPH, Regional Director for the U.S. Department of Health and Human Services. "The truth is, COVID is still part of our lives, and staying up to date on vaccines will help keep COVID from disrupting the things you want to do."
For more information and to find a free vaccine, visit www.vaccines.gov.
On the Net:North American Precis Syndicate, Inc.(NAPSI)
Get Top Stories Delivered Weekly
Recent theclockonline News Articles
Discuss This Article
MOST POPULAR THECLOCKONLINE
GET TOP STORIES DELIVERED WEEKLY
RECENT THECLOCKONLINE CLASSIFIEDS
HOUSING

JOBS

FOR SALE

TUTORS
Plymouth State produces top
LASIK New York
doctors that specialize in lasik and laser refractive eye surgery.
TODAY'S PRINT EDITION