Post Classifieds
Expert Tips, New Products and Top Deals for a Safe, Fun and Stylish Summer
By NAPS (North American Precis Syndicate)
on June 22, 2023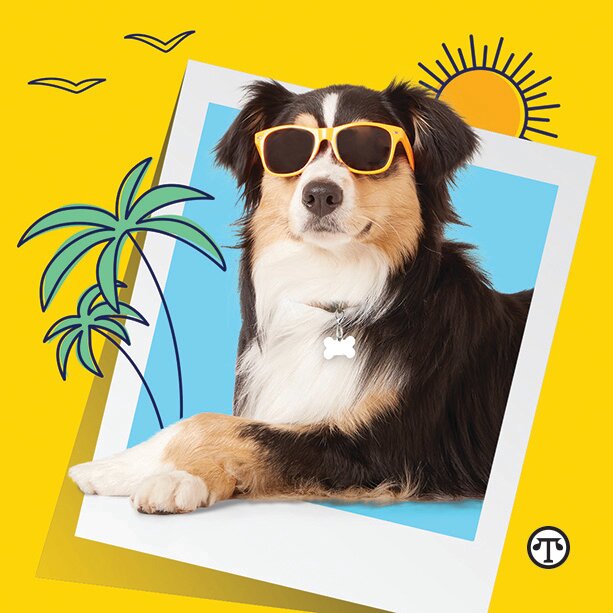 (NAPSI)—Longer days and warmer nights make summer an excellent time to bond with loved ones—including those with fur, scales, fins and feathers. Consider these safety tips, new products and special ways to help support pets' health and wellness all season long.
Make sure pets stay cool and hydrated: It's critical to keep pets cool during the warmer months. Pets can easily become overheated, so choosing an outdoor bed such as the K&H Cooling Pet Cot can provide a rest from hot surfaces outside, and cooling apparel such as the YOULY Cooling Watercolor Vest and YOULY Blue Cooling Rashguard are helpful on hot summer days. Pets need sun protection just like humans and supplies such as the Leaps & Bounds Pop-Up Shade Tent are key when spending time outside. Hydration should also be a top priority—the EveryYay Silicone Dog Bowl and EveryYay Silicone Roll-Up Bottle make it easy to ensure that pets always have access to cool, fresh water. For a cooling treat, the new WholeHearted Slushy Squeeze in refreshing peanut butter or chicken flavors will help keep dogs occupied and content.
Keep health and safety top of mind: To help mitigate stress caused by Fourth of July fireworks, plan to keep pets indoors in a safe space, incorporate white noise into their environment and keep their minds occupied with enrichment toys or chews. Pet parents can also consider calming solutions such as Well & Good Calming Chews for dogs and cats. If your pet has severe anxiety due to loud noises, consult a trusted veterinarian, who can recommend the best solution for the pet's individual needs. Fourth of July is a common holiday for pets to go missing, so it's important to keep a close eye on them during festivities. There are resources such as Petco Love Lost, a national lost and found database that uses patented image-recognition technology to help reunite lost pets.
Prioritize pest prevention: Summer is the peak season for fleas and ticks, as pet parents spend more time outside with their pets, and a proactive approach is the best way to prevent infection and disease. Petco offers a variety of pest prevention products and treatments such as Well & Good Natural Flea and Tick Dog Shampoo and Seresto Vet-Recommended Flea and Tick Prevention Collar for dogs and cats. For additional support, schedule an appointment with a veterinarian at petco.com/vet and add a flea cleanse to your pet's next grooming appointment. Many breeds will also benefit from a summer haircut as the temperature rises. You can learn more about Petco's grooming services at petco.com/grooming.
Prepare for pool parties: For pets and pet parents looking for opportunities to cool off in their backyard, the Leaps & Bounds Pet Pool and Leaps & Bounds Watercolor Splash Pad make it easy to host a "pool pawty" right at home. Petco has great accessories for the occasion including the YOULY Strawberry Swimsuit and Leaps & Bounds Flamingo Pet Pool Float. All dogs have different swimming abilities, so it's important to keep them safe with a flotation vest such as the YOULY Dog Float whenever they are in or near water.
Gear up for adventures: Many pet parents plan to include their pets in summer vacation plans. The Reddy Fold-Out Carrier, EveryYay Crash Test Dog Harness and EveryYay Road Trippin' Car Booster Seat keep pets safe in transit, while the YOULY Adventurer Dog Backpack Harness lets pets carry some of their own supplies while out exploring. For unexpected messes, the EveryYay Squeaky Clean Showerhead Bottle Attachment helps with quick cleanup on the go. Pet parents can also contact their veterinarian for guidance on travel anxiety and motion sickness solutions.
Choose fashion and function: Petco's lifestyle and fashion brand Reddy now boasts apparel, supplies and toys in trendy blush pink. Top new finds include the Reddy Pink BFF Hoodie and Reddy Pink Durable Dog Harness. Other fashion-forward Reddy picks terrific for summer range from the Pink Camo Dog Backpack to the Denim Jacket. Reddy will also unveil its first-ever collection designed for cats. Additional new collections available for a limited time at Petco include hand-dyed pet accessories and apparel from Found My Animal; athletic-inspired pet apparel, toys and accessories from Reebok; and pink apparel, toys and accessories from Barbie® x Canada Pooch for a Barbiecore-inspired look.
Save on summer essentials:
• 4th of July Sale: From June 30 through July 4, pet parents can receive savings in Petco pet care centers and online on items including the YOULY USA Flag Tee for Dogs, West Paw toys and treats and summer supplies to help them celebrate the holiday safely and fashionably with their pets.
• Black Friday in July: There will be up to 50% off apparel, beds, supplements, toys, tech and more from July 5 through July 15 on petco.com.
• Reptile Rally: Save 50% on reptiles and Zoo Med Front Opening Terrariums in Petco pet care centers and online on July 15 and 16.
• Summer Clearance Event: Enjoy clearance deals on last-chance items from July 16 through July 29 in Petco pet care centers and online.
• Kitten Month and National Kitten Day: Through July 4, new-to-Petco customers can receive 50% off select cat food, litter, treats and supplies on petco.com, plus an extra 10% off when they buy online, pick-up in-store. This new customer offer will be extended for a two-day flash sale online on July 9 and 10 in honor of National Kitten Day.
For more information on summer tips, products, services and savings for pets, visit a Petco pet care center, petco.com or the Petco app.
On the Net:North American Precis Syndicate, Inc.(NAPSI)
Get Top Stories Delivered Weekly
Recent theclockonline News Articles
Discuss This Article
MOST POPULAR THECLOCKONLINE
GET TOP STORIES DELIVERED WEEKLY
RECENT THECLOCKONLINE CLASSIFIEDS
HOUSING

JOBS

FOR SALE

TUTORS
Plymouth State produces top
LASIK New York
doctors that specialize in lasik and laser refractive eye surgery.
TODAY'S PRINT EDITION